Smart Sign-in Sheets for Open Houses
Create follow-up surveys and maximize booked meetings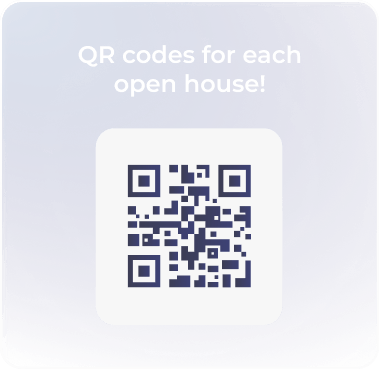 We incentivize sign-ins via a fun prize drawing that we fund at no cost to you

Leads from open houses fill out follow up survey and book time directly on your calendar
Capture More Leads. Build Better
Relationships.
45% increase in booked meetings

Receive a digital sign-in sheet

Display the sign-in sheet at your open house

Visitors fill out the form on their own device

Responses are emailed to you immediately

We enter your visitors in a fun prize drawing
that we pay for
Unlimited entries per open house
We enter your visitors in free prize drawing
Personalizable visitor sign-in sheet. Add your name + picture!
Integrate with 3,000+ CRMs & other tools via Zapier
Get names, emails, phone numbers
CSV downloads + admin dashboard
Responses delivered in real-time to your email
Everything in free forever and
View visitor survey responses
Money back satisfaction guarantee
Advanced integrations & customization
Contact us for more details
We have offices in Los Angeles and Boston. For more information, please email
[email protected]
We welcome your feedback and questions!
You can reach us toll-free at (877) Kagent-8
You are seconds away from more leads and new client relationships

Contact us toll-free: (877) Kagent-8.